PASTA ALLA ZUCCA
Zucca means pumpkin in Italian, and it is one of the best – if not the best – vegetable in November. So here is an easy, yet delicious Italian recipe that you can cook at home. It only requires half an hour, and no worries, you don't need any oven nor microwave to prepare it, only a big saucepan.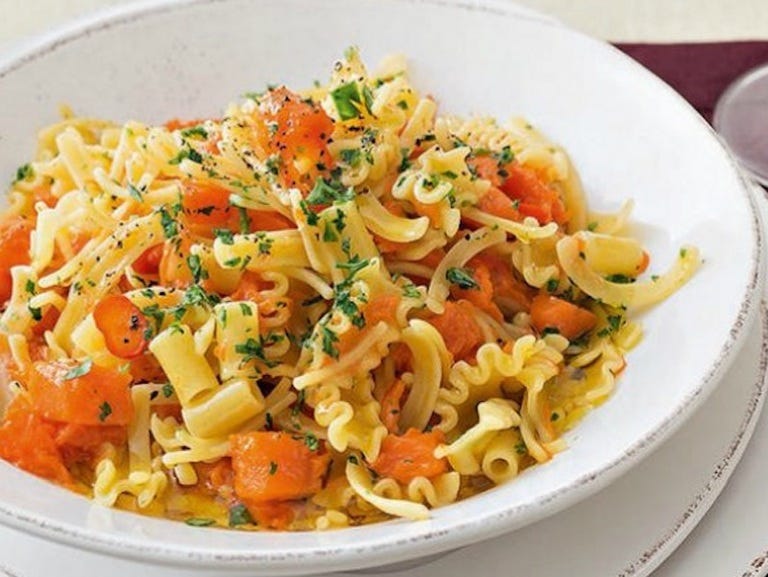 Ingredients for 2:
About 300-400g of pumpkin (any type of pumpkin will do)

160g of pasta (if you want to respect the Italian tradition, choose penne pasta, or a mix of Neapolitan pasta)

 2 tbsp of olive oil

 1 garlic clove

Chili pepper (fresh or dry, to taste)

Parsley

30g of parmesan cheese

Salt

Optional : broth (vegetable or chicken)
Instructions
Remove the skin from the pumpkin, and dice it.

In the saucepan, start heating the oil. Add the garlic and the chili pepper; they develop their taste better when added in early.

Add the pumpkin to the saucepan, and cover it. Normally, you shouldn't need to add any water, since the pumpkin naturally gives off water when cooking.

When the pumpkin is almost cooked (meaning it is getting quite soft, this will depend on how big the pumpkin bits are), add some boiling water or broth, and then add the pasta.

 Cook the pasta for as long as recommended on the pasta's package. Do not overcook them: you want them "al dente"!
When the pasta is cooked, drain the excess water. Add the parmesan and parsley.
Your dish is ready to serve!